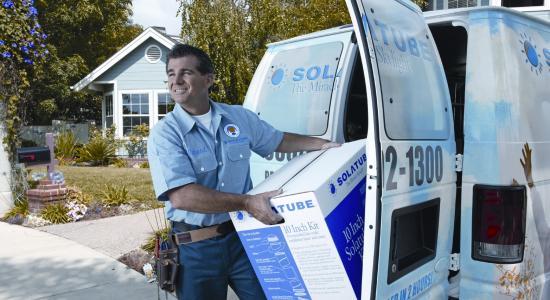 Daylight Concepts
Thank you for visiting our website. Daylight Concepts, LLC is the Exclusive Solatube Premier Dealer serving the greater Tampa Bay / Lakeland / St Petersburg / Clearwater / Sarasota / Venice metro areas, now serving Port Charlotte, Fort Myers, and Naples metro areas!.
We are a Florida State Certified Roofing Contractor (Lic# CCC1331662) with 18 years of experience with installation and sales of Solatube Daylighting Systems, Solar Attic fans, skylights, and roofing. As an exclusive authorized Solatube Premier Dealer, we bring our customers incomparable Quality, Price, and Service.
Quality-
Our quality starts with our factory-trained installation consultants - we are the ONLY Solatube authorized PREMIER DEALER in the greater Tampa Bay area (beware of imitator installers and knock-off products!) Our only business is Solatube products, so you know you will get the right part, the right installation, and expert service. Also, we offer the full array of Solatube Options and Accessories to compliment your Solatube experience. We carry the complete line of all Solatube products, including Solar Attic fans, with experts that install it promptly, courteously, and professionally. We give free estimates, replace your old tubular skylight, update your Solatube and offer small roof repairs.
PRICE -
As the exclusive Solatube authorized Premier Dealer, we buy factory direct from Solatube International with no middlemen. This guarantees we have the right part, at the very best price you will find. Since our installers are dedicated to only installing Solatube products day-in and day-out, this allows us to keep our costs low and pass on the lowest possible labor cost to our customers.
Service -
As a state-certified roofing contractor, you can rest assured that you will get the highest quality service and installation. WE PERFORM FREE ROOF INSPECTIONS AT THE TIME OF THE INSTALLATION. Also, we guarantee you will be getting the optimum performance from your Solatube Daylighting System with the right parts and service that does not end with the installation. As a matter of fact, the vast majority of installations we do are from repeat and word-of-mouth customers. We appreciate our customer´s loyalty and know that trust and confidence are built one customer at a time. See what our happy customers have to say on Google and Facebook. With the support of the entire Solatube network, we offer the most expert knowledge and experience with Solatube installation applications in residential and commercial. We can offer our customers the highest level of service and support in any area. We welcome your questions and will strive to earn both your confidence and complete satisfaction.
CONTRACTORS PRICING Available, BEST IN THE AREA --- "Do It Yourselfers" also welcome. As your local Premier Dealer, you can count on us to carry the full line of all Solatube products and accessories.
Daylight Concepts Upcoming Events
We like to get out and about from time to time. Find out where we'll be demonstrating Solatube products or attending trade shows below. We hope to see you there!
Testimonials
Find out what it's really like to own a Solatube daylighting or attic ventilation system. Just read the customer comments below. Then, if you're ready to learn more, contact us to schedule a free in-home consultation. There's absolutely no obligation, and our professional Certified Installation Consultants arrive when it's convenient for you.
Daylighting
Hi,
We had two 290ds units installed in our kitchen/great room today and we are delighted with the results. I thought I'd share my before and after photos with you.Here's what our kitchen looked like at 9:30 this morning. It was already fairly light outside, but very little light made it into our kitchen.
And here's what it looks like after installation. There were NO electric lights on in the house when this picture was taken. All light is coming from our new Solatubes. It's amazing!!
The Solatube installers from Dayllight Concepts were extremely knowledgeable and courteous. We will be sure to recommend your service and products to our friends.
I've also attached these photos to this email in case you have difficulty seeing the embedded photos.
Sincerely,
Rick Weaver
Largo, FL
Daylighting
I chose Daylight Concepts because of the many positive reviews I read online, and had a very good experience. The dispatcher, Beth, was very friendly, helpful, and accommodating when I changed my mind about which skylights I wanted the day before the install was scheduled. The installer, Ash, was very professional and efficient. He was also very patient and helpful in explaining all my options as I changed my mind (again) the morning of the install. As he performed the work, Ash was fast yet deliberate, and took great care to minimize the mess and noise. It started pouring rain shortly after he installed them, and has rained since, and there was no leakage. And my solar tubes are absolutely stunning. They transformed my dark rooms into beautiful light filled spaces. I've had many positive comments about my Optiview, in particular, which throws rainbows into my kitchen.
Madelyn S.
Seminole
Daylighting
This letter is to commend the service I received from your installer. Not only was he knowledgeable in installing my Solatube, he was very neat and corteous. He cleaned up his mess after completing the job and followed up with a phone call to make sure that I was completely satisfied. What a great asset he is to your company. I will definetely be recommending Daylight Concepts to all my friends and associates. It was truly a pleasure to do business with you.
-Bob H. from Tampa
Solar Star RM 1600 Attic Fan
Thanks Greg. We love our solar attic fans! They have made a huge difference.
-Aaron B. from Tampa
Daylighting
A testimony, you ask, about the most fabulous product we have ever put into our home??? What an easy assignment! We can't say enough about our Solatubes! These innovative, mood-elevating light sources are incredible! We have already placed them in two homes we've renovated, both of which were so dark in spots that even daytime-reading was impossible without turning on a light. In fact, the tubes were the first priority on our re-modeling list. Our current home evolved from being a depressing place dark enough "to grow mushrooms inside" to a home with a bright, sunshiny interior, with rainbows sprinkling in through the light tubes. Clear, beautiful natural light is a MUST for me – not only for the artwork I do which necessitates bright, true light for accuracy in choosing ink colors, but for the uplifting feel we get from all of the extra daylight that spills into each room. And most importantly, it is NATURAL light. An added bonus of having opened these "overhead windows to the world," which wasn't even a factor in the installation of our tubes, is that we don't even need to turn on lights until nightfall! And, who doesn't love saving money???? And, just so you know…. I don't WORK for this company, never HAVE worked for this company, and am not related to anyone who DOES work for this company. This piece is being written and sent to the company only because of how impressed I am with this product, and because the end-result was WAY more than we'd hoped to expect. And also, because thanking Daylight Concepts on the phone was simply not enough. (Oh – did I mention how knowledgeable and helpful Chris is? And, did I tell you that with all of the tubes we have had installed (which I think totals eight!) there has never been even one leak or seating problem?) Nope -- not a drop! EVER! Well, that's it from a totally satisfied customer! As a result of these great light sources, our home is now lighter, brighter, and much more open and welcoming. The rooms even seem bigger! So, thank you, Daylight Concepts, for your excellent service and commitment to quality installation. Your product has made all the difference in our home, and in the pride we take in it. Sincerely,
Robin
Palm Harbor, Florida
P.S. Well… I do have one teeny, weeny "complaint" -- Even now I get fooled once in a while, because I reach in to shut off a light switch, and then realize that the light isn't even ON!!!! J
Just wanted to drop you a note and thank you so much for my light tube. Your installer did a fantastic job and turned our old dark living room into a bright and open space. No more need to keep the lights on anymore during the day. Now I can't wait to redo our kitchen to add another light tube to our house!!
Thanks again.
-Rich (Riverview)
Solar Star RM 1600 Attic Fan
The Solatube Solar Attic Fans help reduce buil up heat inside our attic space. We love them.
-Karen from Seminole
Daylighting
I thought it was about time to write and let you know how pleased my wife and I are with the Solatubes you added to our home. In brief, the "tubes" have made a significant contribution to the brightness and hominess of the rooms, and as an added bonus, we do not notice any heat gain in any of the rooms. Even more, we are very satisfied with the installation and after-sale customer service. I would not hesitate to recommend Daylight Concepts to any of my friends and neighbors. You guys do a great job! Thank you,
-Peter (Ruskin)
Daylighting
Greg:
Not sure why my e-mail from last Sunday got lost, but I'm glad to get these two additional tubes in our home. As with the first two, what a difference they make! Mike does good work, and is a nice guy. Finally, thanks for the tip on the "green" credit this tax year. We'll remember to look it up when we're doing the dreaded taxes.
Take care, and thanks again. We have and will continue to recommend you guys.
Regards,
- Doug (Sun City Center)
Daylighting
Daylight Concepts installed 5 Solatubes & one Solar Star attic fan in my home. I absolutely love them because of the difference they made in my home. In fact my bathrooms are so bright that company tries to turn the lights off when leaving because the room is so bright they think the lights are on. The product is wonderful & I would like 4 more!!!! Whenever anyone talks about installing this type of tube in their home I always stear them to Daylight Concepts. I found them to be knowledgable about the product & placement & were concerned about my satisfaction. No complaints.....only praise for the company's products, owner & employees.
-Janie (Sun City Center)
Solar Star RM 1600 Attic Fan
We have 3 Solarstar Attic Fans installed a month ago and we are already noticing the difference. The AC does not run as often, and to tell you the truth, we forget they are up there because they do all the work without making any noise and they don't have to be turned on or off. The installer was very pleasant and did a super nice job. I will be recommending Daylight Concepts to all of my friends and neighbors.
-John (Venice)
"We use testimonials and reviews to assess whether we're doing a good job keeping valued customers like you happy. Please visitAngiesList.com/Review/2086093 or superpages.com in order to grade our quality of work and customer service.
We want to thank our great customers for allowing Daylight Concepts to post their comments on this page and taking the time to give us a review.