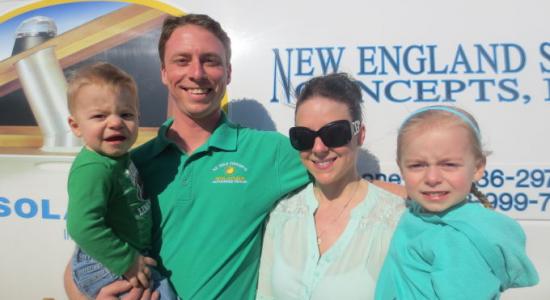 New England Sola Concepts
Our family looks forward to Brightening Your Day. The New England Sola Concepts mission is to bring energy efficient products and services to Southern New England. Our passion is to help homeowners and businesses create healthy daylit interiors that reduce energy cost and save you money. We are pleased to serve you as New England's #1 Solatube Premier Dealer and Solatube Manufacturer Certified Installer.
Since 1997 New England Sola Concepts has enjoyed serving the homeowners of New England. We are commited to providing our customers with the best natural lighting and solar attic ventilation solutions available.
Our certified installation services are backed by our 10 year product guarantee and 2 year labor warranty (conditions apply).
You are invitied to visit our showroom located in Warwick, Rhode Island (off Post Road in the Apponaug Rotary and across from Bank of America) where we have several installed Solatube products and accessories.
Please visit our showroom to see Solatube Daylighting in Action!
 Brendan Peterson, Owner of New England Sola Concepts, Inc.
New England Sola Concepts Upcoming Events
We like to get out and about from time to time. Find out where we'll be demonstrating Solatube products or attending trade shows below. We hope to see you there!
Testimonials
Find out what it's really like to own a Solatube daylighting or attic ventilation system. Just read the customer comments below. Then, if you're ready to learn more, contact us to schedule a free in-home consultation. There's absolutely no obligation, and our professional Certified Installation Consultants arrive when it's convenient for you.

Ty, Just wanted to say we really love them. In the short time we've had them they've really made a big difference in cooling down our houses inside temperature during these warm days.
Once again we love them and thanks.  
-Keith & Lucy Maynard

Dear Ty,Just a short note of thanks for all the effort expended by you on our behalf. The hassle you were subjected to was unreal, but you persevered and we now have a beautiful new Solatube in our kitchen that lights up what was a very dark and dreary room. Thanks again for all your helpin "lighting up our lives".
Martha and Nate xxxxx Wethersfield Commons
Ty, Thanks you, thank you for installing these in our home. After I saw it in our neighbors home I realized this was what I needed...thank goodness you were so helpful! We love them.
Susie and Ed Wenthworth, MA

Hi, Stopped by your booth on Saturday and was talking to you about how great the solar exhaust fans you installed were working and you asked me to send you an email.
You installed 2 solar exhaust fans to cool or attic during the summer of 2007 and they're working better than I could have imagined. I've also added extra insulation in the attic.  Before putting the fans in, my house was really warm during the summer and I was running 2 window air conditioners. Since doing the fans and added insulation the house has been very comfortable during the summers of 2008/2009 and I haven't even bothered to use the 2 air conditioning units, they've been sitting in the basement gathering dust. I would strongly recommend these fans to anyone, they really work.
Thanks again, Keith
North Dighton

Hello Ty, I still look around for lights to turn off when I go to school in the morning! When the sun is shining I just want to stay home and enjoy the sparkling light.
Thank you, Terry