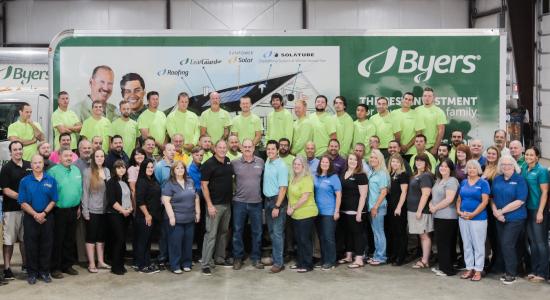 Byers Solatube - Skylights
Turn to Byers for your daylighting and attic ventilation needs
With so many home improvement contractors vying for your attention, it can be a little overwhelming to sort through all the hype to find the company that is right for you. Thankfully for California homeowners, the choice is simple. When you turn to Byers for your daylighting and attic ventilation needs, you will be partnering with one of the most respected companies in the industry. We have earned the approval and loyalty of our customers by providing:
SUPERIOR PRODUCTS
Sleek, reliable, easy to maintain, and built to last–our attic fans and tubular lighting will improve your home's energy efficiency and reduce your dependence on utility-produced electricity.
EXCEPTIONAL CUSTOMER SERVICE
From first contact to final inspection, we go out of our way to provide exceptional and reliable customer service to every one of our clients, proving that "It is All About Family."
EXPERIENCED TECHNICIANS
Courteous, punctual, and meticulous, our team of craftsmen will ensure that your Solatube products are installed quickly and flawlessly.
YOU CAN TRUST BYERS TO PROVIDE EXCEPTIONAL RESULTS
When it comes to home improvement projects, there is no magic formula for success. Our attention to detail, pride in workmanship, reliable customer service, and commitment to excellence is the only way we have ever done business. We give it our all and expect our customers to settle for nothing but the best. When you choose Byers, you can expect:
Exceptional customer service with prompt responses to all of your questions from one of our friendly team members
Minimal disruption to you and your household's daily routines
A tidy installation that keeps work-zone clutter and debris to a minimum
The peace of mind that comes with knowing your Solatube products are backed by a 10-year warranty that covers performance, labor, and parts
AT BYERS, IT IS ALL ABOUT FAMILY
For 35 years and counting, the Byers family has been in the business of keeping your family safe, warm, and dry by providing only the highest quality gutters, roofing, and solar panels. Every new product and service we offer must meet our time-tested standards before we will stake our family's name and reputation on it.
Treating our clients and our employees like family is one of the founding principles of our company, and since opening our doors in 1987, we have never lost sight of that core value. Although we have grown and thrived over the years, we are still committed to treating our employees and clients with the utmost respect, honesty, and integrity. In fact, it is our strong belief that our success is due in no small part to our staying true to our founding vision. Everybody at Byers loves the company and we hope you will, too.
Our primary goal has always been to help our clients protect their greatest investment — their homes. That is why, when you work with us, you will get one-on-one service with a real person who truly cares about the well-being of you and your family. That's Byers, and it is the only way we do business!
Fully licensed and insured
Byers is a California State Licensed Contractor (#518784). We protect our customers with a $2 million aggregate liability insurance policy and all of our employees are covered with State Fund Worker's Compensation insurance.
Recycling since 2001
We created partnerships with other local businesses to recycle old gutters, scrap metal, and cardboard, saving an estimated 1200 tons of waste from going to landfills since 2001. We are doing our part to cut down on greenhouse gas emissions, too. Our estimators visit customers in fuel-efficient, low-emission vehicles.
Byers Solatube - Skylights Upcoming Events
We like to get out and about from time to time. Find out where we'll be demonstrating Solatube products or attending trade shows below. We hope to see you there!
Testimonials
Find out what it's really like to own a Solatube daylighting or attic ventilation system. Just read the customer comments below. Then, if you're ready to learn more, contact us to schedule a free in-home consultation. There's absolutely no obligation, and our professional Certified Installation Consultants arrive when it's convenient for you.

Solatube 290 DS Daylighting System
We recently had a Solatube light installed. We were very pleased with his professionalism, demeanor and lighting expertise. He did a great job and was concerned about leaving no traces of work behind. We love our Solatube.
Thanks for the great service,
Aynn and Dave O.

Solatube 160 DS Daylighting System
Immediately upon installation we were extremely impressed with the results. A once almost dreary interior room has been transformed into a bright, welcoming one.
Paul F.
Solatube 290 DS Daylighting System
We couldn't be happier with our new lighting. The men we dealt with were kind and honest. Our installer was very capable and quick. I was surprised that he cleaned up, too!
Rebecca B.