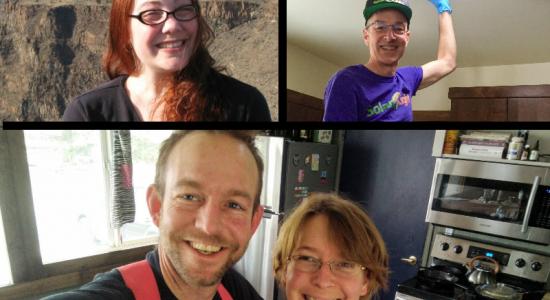 Solar Light Inc
Solar Light is a team devoted to bringing light to peoples lives.

Brennan has definitely put his time in out in the field. With years and thousands of tubes under his belt, he took on the role of "jedi master trainer" and filled his shoes with Kevin. Now for the most part Brennan runs the inner side of the business and all of the marketing designs and web design.

Melody runs the office, answering calls, emails, scheduling appointments, etc... She's also the family's personal UBER driver ;)

Kevin is the lead installer. Brennan personally trained Kevin, making sure he'd seen and done everything under the sun. Kevin's natural craftsmanship and belief in Solatube enlightenment has made him an absolutely stellar Lead Installer.

Ann answers the phones and manages all the install scheduling, and helps bring light to people's lives. If you call, you have a great chance of being greeted by her.

So that's a little bit about us. The crew 9,000 customers have trusted to cut a hole in their roof and ceiling and open up a tunnel to the sun.
Solar Light Inc Upcoming Events
We like to get out and about from time to time. Find out where we'll be demonstrating Solatube products or attending trade shows below. We hope to see you there!
Testimonials
Find out what it's really like to own a Solatube daylighting or attic ventilation system. Just read the customer comments below. Then, if you're ready to learn more, contact us to schedule a free in-home consultation. There's absolutely no obligation, and our professional Certified Installation Consultants arrive when it's convenient for you.