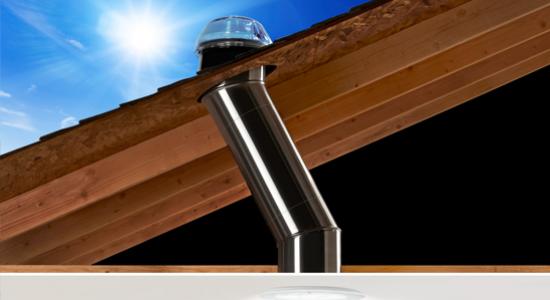 Solar Reflections, Inc.-PA
Thank you for visiting our website.
PA HIC#PA037095
NJ HIC#13VH04784400
We are a family business and treat each home like it is our own. 100% customer satisfaction is our goal!
Check out our testimonial section to view what our customers are saying!
"The best investment we ever made to our home---absolutely wonderful!" Nicholas P., King of Prussia, PA
Solar Reflections, Inc.-PA Upcoming Events
We like to get out and about from time to time. Find out where we'll be demonstrating Solatube products or attending trade shows below. We hope to see you there!
Testimonials
Find out what it's really like to own a Solatube daylighting or attic ventilation system. Just read the customer comments below. Then, if you're ready to learn more, contact us to schedule a free in-home consultation. There's absolutely no obligation, and our professional Certified Installation Consultants arrive when it's convenient for you.

bought 4 Solatubes. We love them. They totally changed our dark rooms. I have been an IT business management consultant for many years. We met Solar Reflections at the Philly Home Show. No BS...all hard work and customer satisfaction. Feel free to use me as a reference anytime.
Frank S. NJ

Hi JJ and Staff, We are so delighted with our brand new Solatube. You've no idea how many times we've reached for the bathroom light switch, thinking we left the light on!! We told so many friends..
Eileen and Steve W., Hatfield, PA

I just wanted to let you know that I am VERY PLEASED with the Solatube that you installed in my house. It is AMAZING what a difference it makes. When I come out of my bedroom every morning and see the light in my living room/dining room area, it gets my day off to a good start.
I have been in two other homes in my community that have something similar, but what you did is far superior. Your placement of the Solatube could not be better in achieving the maximum light coverage. Also, your pricing was reasonable and very competitive, which is important in the current economic climate and to someone in his 70s with a fixed income.
Phil B., Mount Laurel, NJ

As you probably remember, Jennifer and I bought 4 Solatubes and a solar attic fan from you about a year ago. You installed the first Solatube in our living room late last year. We noticed a major difference on the first day in that room.
We are finally under construction with our 3 season room that we've been planning for about 20+ years. During design we decided that the room had so many windows, that we didn't need the 3 solatubes that we designed in the ceiling.
Jen and I decided instead to use them in our "semi-dark" kitchen and dining room. Those two were installed over the last few days.
The last one that we have left we decided to install over the main bathroom sink. That will go in next week.
I can't tell you how these tubes have transformed our house. Our house was always a bit on the dark side, and now I keep reaching for the wall in each room to turn off the light switch when I go to leave for work in the AM. :-)
I knew that this was a great idea when we first saw you a few years ago at the Philly Home show.
You have my complete permission to use us as a demo house, or referral any time you might want one. If you would like to transpose this, I'll even sign it and hold it up for a picture in any of our rooms.
Jen and I have lived in this house for 27 years. The only other thing that we've added that had an equal positive effect was central air conditioning.
We really love Solatubes!!!!!!!! Your sales and installation services are great!

Frank S., Chesterfield, NJ - via email 2/25/12

My wife and I are very pleased with the Solatube retrofit that was done on January 31, 2012 by J.J. He explained everything to us before he got started. He also made helpful suggestion that we would not have considered. The retrofit was to a 10 year old installation and it made a vast improvement to what we had. Not that the old system was bad, but the new tubes, dome, etc. enhanced what we had.
In addidtion, we have a Solar Star attic fan that was installed along with our two Solatubes, 10 years ago, and it is still going strong.
The expertise, professionalism, and timely response were greatly appreciated by us. We highly recommend considering Solar Reflections, Inc. for your Solatube needs.
Eugene M., Easton, PA

We just wanted to let you know how much we love our Solatube. Really adds such brightness to an area in our house that was so dark. We still sometimes reach for the light switch--No! That's our Solatube.
So glad we got information at the home show and found your company. Can't say enough good things about your worker. He was great. Clean, fast, courteous.
Pete and Donna, Levittown, PA

I just wanted to write to say how pleased I am with both the Solar Star, solar-powered attic fan, and all three of my Solatube's. The products have certainly brightened our house, in fact I am still walking past the rooms that have the Solatubes, thinking someone left the light switch on. And that's after 2+ years of having the product. If you ever need a referral, I would be more than happy to do so.
Mike O., Souderton, PA

We recently had a Solatube installed in the guest bathroom of our townhouse, and it's truly fantastic! The amount of daylight is far greater than we'd hoped for, giving the illusion of a large window in the room.

Also, the entire process with Solar Refections was perfect. Our consultation was professional and timely, and the installation went without a hitch and, best of all, was neat! The addition of the quiet fan is another plus.

We hope to install another skylight pending our board's approval! Thank you.

Stephen T., New Hope, PA

Dear J.J., Tammy and all others at Solar Reflections -- Thank you so very much for the Solatube that is illuminating my kitchen and eating area. When I discussed this project with several of you over the phone, you were convinced that I would want one and that I would love it. You were 100% correct. I really appreciated J.J. coming out an initial time to determine the tube's approximate location if it went through a kid's
bedroom closet and into the kitchen. I will not drone on and on about what a difference it makes because I am sure that every customer of yours cannot believe how much brighter their space is. However, just a couple of quick observations about both the product and your company:
First, throughout the summer, my teenagers were constantly leaving on the kitchen lights and chandlier over the table. Upwards of twenty lightbulbs would be glowing when I would come home from work and everyone would be downstairs in the basement. No more. There is now so much natural light that the kitchen and chandlier lights seem dull by comparison. Second, even your competitors admit that your product is better. I wanted the solatube to go through the roof, attic and kids'
bedroom and illuminate an area on the first floor. A roofer who is authorized to install a competing product told me that his product has a maximum distance of sixteen feet -- the exact distance that I needed the tube to travel. He said that there was another product that could stream light down from a greater distance; I guess that he was referring to your product. I had no intention of installing a cheaper competing brand that would not provide the same amount of illumination. Finally,
J.J. and his assistant did a wonderful job installing the solatube. No mess, no fuss, no wasted time. They even neatly cut the carpet that was pulled away in the closet and tucked it around the tube so that there is no need to call a handyman to have him come and tidy up a closet. Thank you. I could not be happier with your product, professionalism, promptness and installation.

Lisa R: Blue Bell, PA

Please accept my sincere thanks for the wonderful job you did installing the Solatube. The living room was immediately transformed from dimly lit shadows to a brightly lit, quite enjoyable living space. In this day and age, it is rare to find a product that exceeds expectations as the the Solatube has. We could not be more pleased.
The installation itself could not have gone better. There was no muss or fuss and was completed in less than three hours. You did a fine job. Please feel free to use us as references for your outstanding product and work.
Mr. Robbins, Schwenksville, PA